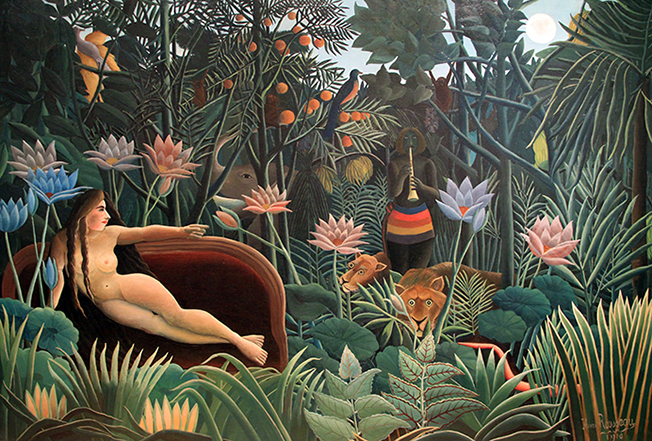 Here's a remarkable piece ("The Dream, " 1910) by an artist who was ridiculed for his lack of training and traditional skill. Henri Rousseau was a toll/tax collector for over 20 years in Paris in the late 1800s. He was a hard working family man who did not take up painting until he was in his forties. He had no traditional training per se, but had an unwavering faith in his own art. Fortunately, many artists of the day, including Picasso, liked his work (maybe*) and helped bring him some success.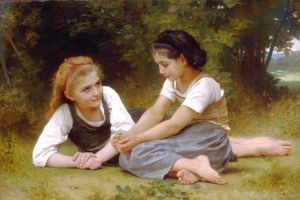 Characterized as a "naive" artist, Henri Rousseau tried to paint in a traditional academic manner of the time. He did not like the "naif" label. In fact, he looked up to artists of tremendous traditional skill like Bouguereau and Gerome. Though striking realism might have been his aim, he produced work that was much different, and fortunately imbued with his unique vision. It's his ability to touch our emotions and perception that makes him such a wonderful artist.
• What, When, Who, Where:
The Dream (1910)
by Henri Rousseau (nicknamed "la Douanier", which means "the customs officer", though he did not attain that rank)
French painter. Painted in Paris.
Image Source: Wikimedia Commons
• What's Cool About It:
I love this painting! What kind of magical stuff is going on here? We've got a voluptuous young woman on a French sofa in the jungle, surrounded by lions, snakes, birds, tropical plants… and a mysterious flute player. Sure seems like a dream to me, but what a dream! The curoius and meticulously rendered plants fill the large painting (6.6 ft x 9.5 ft). It's rich and lush, and the calm woman looks over the whole scene, unperturbed by snakes and wide-eyed lions. We can easily imagine the jungle sounds mixing with the sonorous flute tones (I'm guessing on that "sonorous" part). This is what Rousseau did so well, and it appears unintentionally — filled many of his paintings with deep mystery.
• Behind the Scenes: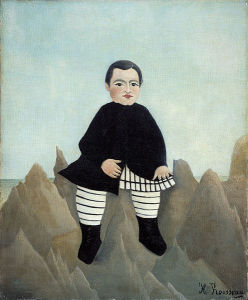 This was Rousseau's final exhibited painting. Sad, because he seems to have hit his niche. His story is fascinating. He spent his first four decades living an ordinary life, in the army and later working as a toll/tax collector. Only later, in his 40's and onward, he became serious about his painting. He had unwavering faith in his ability, despite a good deal of ridicule every time the paintings were exhibited in public. He took and early pension at 49 and took up painting full time.
• Fun Fact:
*The story is that Picasso found a Rousseau painting for sale as a used canvas – ie. sold to paint over. He bought the painting and became a fan of M. Rousseau. He was a perfect fit with early 20th century interest in primitive and non-traditional art. In 1908, Picasso held a banquet and showing for Rousseau. But, was the banquet a mocking joke or a true tribute? From the history it's hard to tell (Picasso later declaimed it), but it's clear that Rousseau continued on in his belief that he was creating great art. And he was! (Some of it anyway).
• Food for Thought: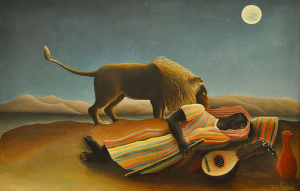 What is bad and what is good? Does an artist of the greatest technical skill create "better" art than a "naif"?