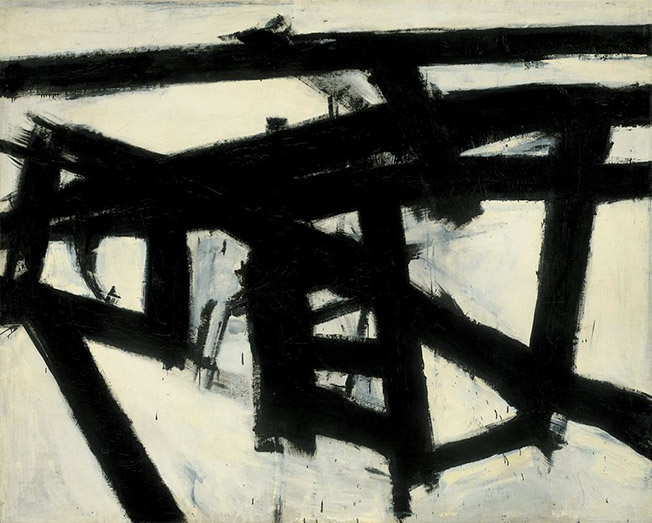 And now for something completely different. Something to challenge your eyes a bit. This is an "abstract expressionist" painting by Franz Kline. It was painted in 1956, so though this may look "out there" to you… it's been around for a long while, and folks in 1956 thought it was pretty cool. I do too. Here's why…
Franz Kline was a New York abstract expressionist painter. What does that mean? Well, pretty much what it sounds like… an expression of abstract painting, almost a performance in paint, if you will. This was new, uncharted territory at the time. A mix of color (or black and white), movement, direction, shapes…. all open to your interpretation. And here's the good part: you can't be wrong.
• What, When, Who, Where:
Mahoning (1957)
by Franz Kline
New York City
Image Source: WikiPaintings.com (and used here under the same fair use rationale.)
• What's Cool About It: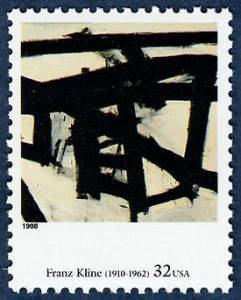 "My kid could do that!" (hereafter referred to as the "My Kid Argument")… maybe, but that's not the point. This painting is 6.5 feet by 8 feet wide. It's a big, bold painting, and were you to stand in front of it you'd surely feel the power of those bold black strokes. Franz Kline shows us shapes and angles, wide gestures and the powerful contrast of black and white. It was deemed "action painting." You might see images there: a box, a fence maybe a building. There's no "right" interpretation. It's all valid, and that's part of the beauty of abstract art. Your interpretation is right. Your reaction is right. And if you look a while, you might re-interpret and re-react. Look what Mr. Kline has done for you!
• Behind the Scenes:
Kline was well educated in art. He studied at Boston University and at Heatherly's School of Art in London. He taught at Black Mountain College (which was famous for producing and involving numerous avant garde artists, composers and designers) and the Pratt Institute in Brooklyn. He started as a draughtsman and illustrator and evolved to his unique style. His work became recognized in the 50's along with Jackson Pollock and others.
He died much too young (52) of a rheumatic heart disease.
• Fun Fact:
The spontaneous  look of these paintings may be a bit deceptive. Mr. Kline use to work up numerous sketches of his ideas, sometimes on old phone book pages, until the impact was what what he wanted. Then he would execute the larger works. Still a lot of spontaneity there, though!