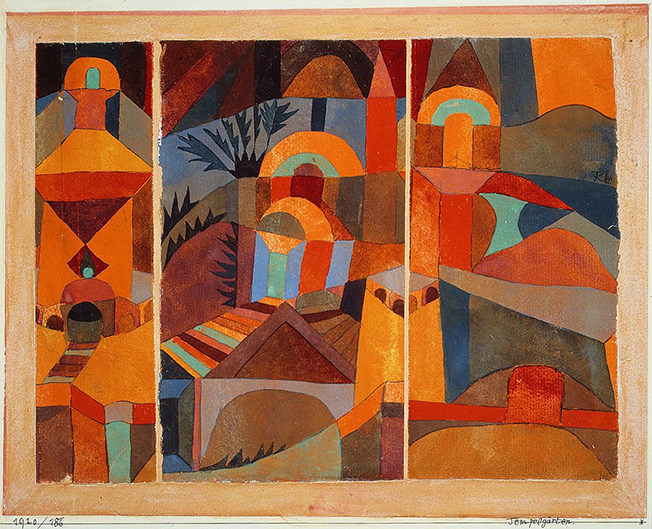 Here's a sunny piece by one of my favorite artists: Paul Klee. I enjoy most genres of painting… from hyper-realistic to completely abstract. If the abstract is something new to you, think about the play between the representation of something real (in this case a Mediterranean landscape), the the pure colors and shapes. You can take it either way and enjoy the mix.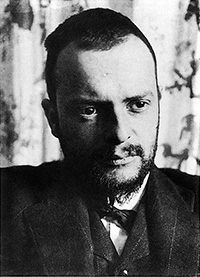 • What, When, Who, Where:
Tempelgärten (Temple Gardens) (1920)
by Paul Klee
Switzerland
Image Source: Wikimedia Commons
• What's Cool About It:
What a bright, colorful image. I really enjoy the way it depicts the Tunisian architecture and blends the abstract with the real. Also, the fact that it's a "triptych" (three panels) is appealing. I enjoy the way they play against each other, with similar imagery, but not really extending from one panel to another.
• Behind the Scenes:
Paul Klee was an amazing guy. He was a skilled draftsman who loved to explore line and color. He was a soldier in WWI and lost some of his close artist friends, from a group called The Blue Rider (Der Blaue Reiter) He later worked at the famous Bauhaus school in Germany, but was forced to flee to Switzerland in 1933 when the Nazis began to target him.
There is a fantastic documentary piece about Paul Klee available for viewing on YouTube. I highly recommend it.
• Fun Fact:
Paul Klee was a very prolific artist, producing an estimated 9,000 works during his lifetime. That's roughly 1 every 2 days for his entire 61 years. In 1939 alone, he created over 1,200 works of art!