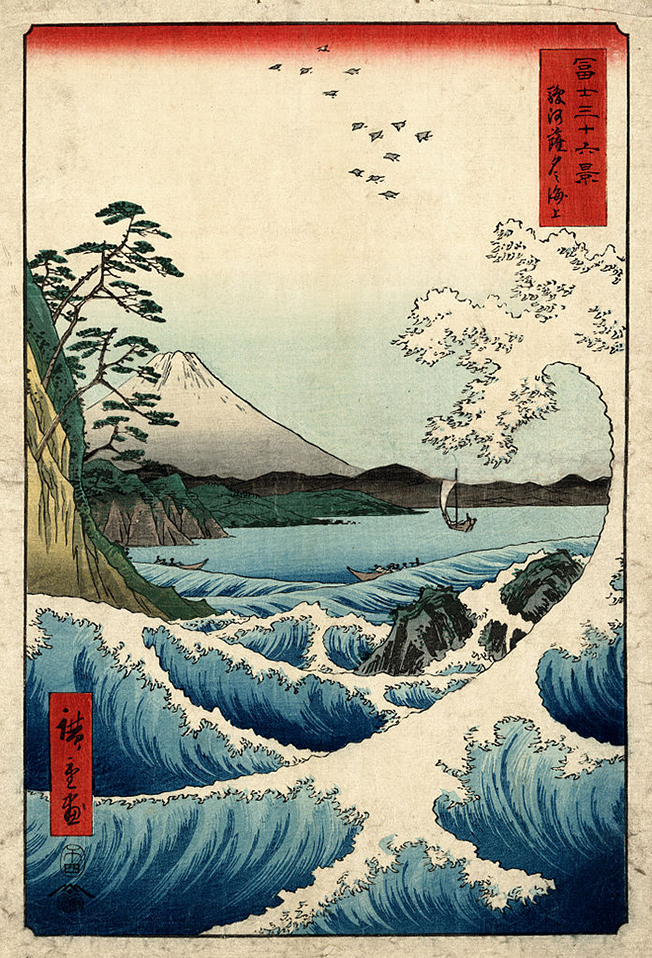 This is a remarkable woodblock print from Japan in the 1850s. It's one of a lifetime's worth by artist Utagawa Hiroshige (b.1797 – d.1858). Like so many Japanese arts, the level of craft and design here is astounding.
A lot went into making these small prints. They were designed by an artist like Hiroshige, then glued to a wood block and delicately carved away, leaving only the lines at face level. From there additional blocks were made for the colors, and everything printed together by master printers.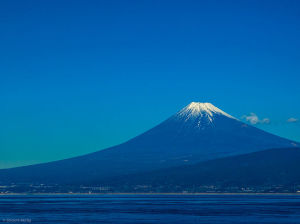 Wood block prints were very popular in Japan during these times. Though probably too expensive for the average citizen, they were affordable to those of slightly higher means. The whole operation was run by publishing houses that employed the artists. This print is from the genre called "Ukiyo-e" — a popular style from roughly the 1600s to the mid 1800s. Common themes were were depictions of beautiful women, kabuki actors and sumo wrestlers, history and folk tales, travel scenes and landscapes, flora and fauna, and… erotica.
• What, When, Who, Where:
The Sea at Satta, Suruga Province
Utagawa Hiroshige, Japan
Published 1859
Woodblock print
About 13″ tall
Image Source: Wikimedia Commons
• What's Cool About It: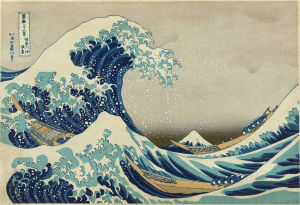 This print is part of a series by Hiroshige called "Thirty-six views of Mount Fuji" – Hiroshige's last series. An excellent marketing ploy, publishing houses realized that a vast series would encourage buyers to continue to acquire prints. I think virtually every print in these series is a little masterpiece. This one has a really nice composition with the foliage at the left echoing the wave at the right. The flock of birds are almost like splashes of water coming from the wave.
If that wave form looks familiar, you are probably remembering one of the most famous Ukiyo-e prints ever by another great printmaker, Katsushika Hokusai, from roughly the same period. In fact, the wave in Hiroshige's print Here's an actual view of Mt. Fuji across Suruga Bay. Source: Wikimedia Commons, photographer: Shinichi Moritmay be an homage to Hokusai, who had died some years earlier.
• Behind the Scenes:
The process used to make these prints is a finely tuned craft that evolved over centuries (and originated in China). The videos below give excellent demonstrations by some some modern day practitioners.
• Fun Fact: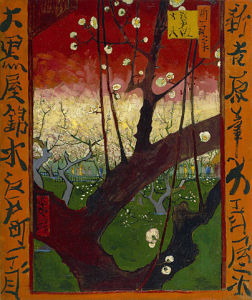 The Impressionists in France were hugely influenced by Japanese prints. As these prints made their way to the west, artists were struck with the unique compositions and graceful lines. Van Gogh even attempted a few replica paintings of Japanese prints.