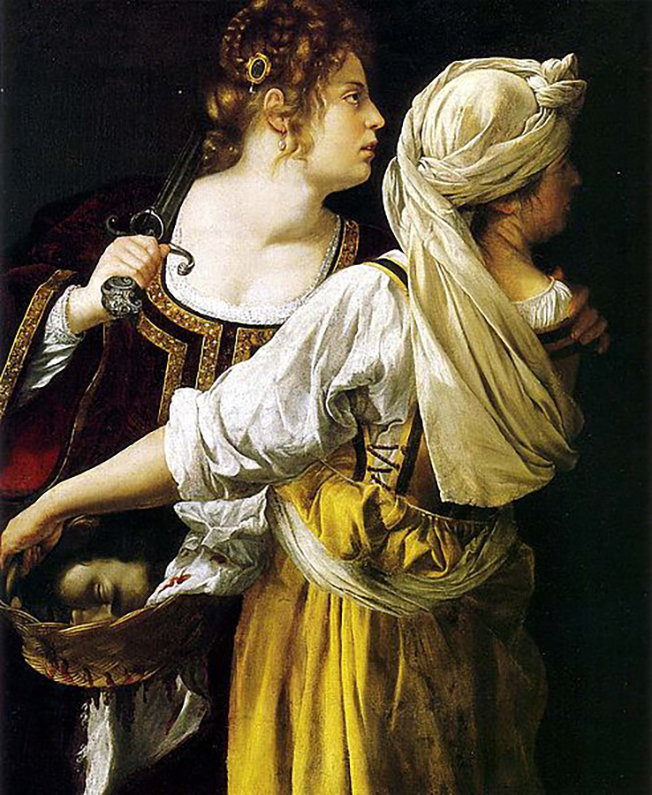 Artemesia Gentileschi was the daughter of the accomplished painter Orazio Gentileschi, who taught her well. Many of her bold and dramatic canvases reveal scenes from the Bible and mythology – often at the most dramatic of moments and often depicting strong and suffering women.
Yes, that's a head in the basket. This beautifully painted image, titled "Judith and her Maidservant," is a scene from the Bible story about Judith. In the story, Holofernes, an Assyrian general who was about to destroy Judith's home city, desires the widow Judith and summons her to his tent.  When he is overcome with drink, Judith and her maidservant promptly disposses him of his head, thereby saving the city. They are shown here sneaking the head away in a basket.
Gentileschi also did a painting of Judith and her maidservant decapitating Holofernes. It's a bit graphic for the BWA front page, but click the read more if you'd like to see it.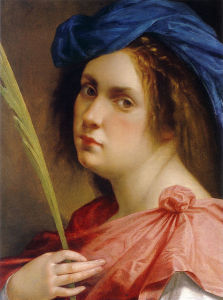 Artemisia's life was not untroubled. Her mother died when she was 12 years old. Five years later, she was raped by a painter her father had hired to tutor her. In those days, legal recourse was not what it is today. Artemisia's father demanded this man, Agostino Tassi, marry her. He refused, and Orazio brought a legal suit against him. After a long and harrowing trial (in which Artemisia – the victim – was examined and put to thumb screws) the man was convicted and sentenced to one year in prison, but the order was never enforced. Later, Artemisia married another artist and had a daughter. Apparently the marriage was not a happy one, but it did allow her the time and place to paint.

Artemesia Gentileschi
Judith and her Maidservant (1613–14)
Oil on canvas Palazzo Pitti, Florence
37″w X 45″H
Italy
Image Source: Wikimedia Commons

There is a lot of drama in this painting. Even if you did not know the story, it's captivating… the two women, looking suddenly to the right and the undeniable head in a basket. The sword in Judith's hand:  clearly they're responsible for whatever beheading has occurred. But I think there's more to it than that. If you know the story, they become heroic and endangered. Making a getaway from an act that may save a city. They look bold, brave and determined. Here is her "prequel" painting of the story, the beheading of Holofernes. Grim work indeed: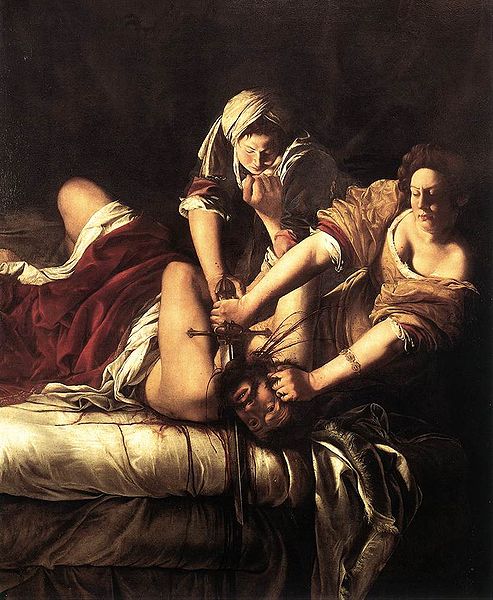 Artemisia was successful as an artist, one the first woman accepted into the Academy of the Arts of Drawing in Florence, Italy. She had a long career, located in many cities of Italy, and achieved some genuine recognition. Because of her tragic background, her strength and her dramatic paintings, the life and works of Artemesia Gentileschi are often discussed. One author wrote: "There are about fifty-seven works by Artemisia Gentileschi and 94% (forty-nine works) feature women as protagonists or equal to men."*

From Wikipedia:
For a woman at the beginning of the seventeenth century, Artemisia being a painter represented an uncommon and difficult choice, but not an exceptional one. Before Artemisia, between the end of the 1500 and the beginning of 1600 other women painters had successful careers, including Sofonisba Anguissola (Born in Cremona around 1530, Palermo around 1625), was called into Spain by King Philip II and Lavinia Fontana (Bologna, 1552, Rome 1614) departed for Rome by invitation of Pope Clement VIII. Later Fede Galizia (Milano or Trento, 1578, Milano 1630) painted still lifes and a Judith with the head of Holofernes.

__________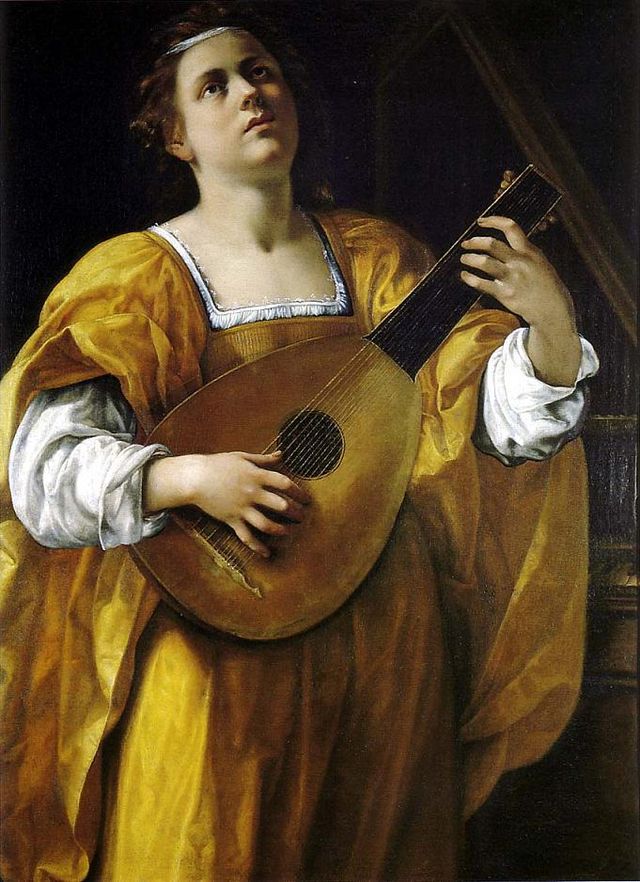 * p 112, Bissell, R. Ward. Artemisia Gentileschi and the Authority of Art, Penn State Press, 1999 ISBN 0-271-02120-9